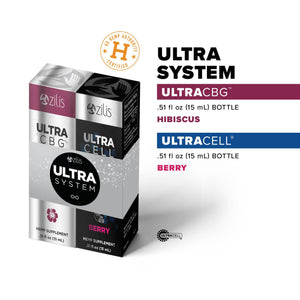 Free Shipping!
This combo pack contains 1 bottle of UltraCell Berry CBD Oil and 1 bottle of Hibiscus flavored CBG Oil. Both bottles together provide a 30 day supply. Both products are made from organically sourced hemp to ensure the highest quality product.
UltraCell is a blend of full spectrum hemp oil and other essential nutrients. UltraCell contains a myriad of naturally occurring phytocannabinoids, terpenes, flavonoids, and fatty acids. UltraCell is processed with our proprietary technology to maximize bioavailability. Delicious Berry Flavor.
>0.03% THC

Organically Sourced Hemp Oil

CO2 Extraction 
Up to 94% Absorption Rate
Studies show up to 30x More Absorption vs Typical CBD Oil
Contains Prebiotics
30 Day Supply 
Independent Lab Testing: Scan the QR code on each bottle to view the test results. 
CBD Ingredients: Purified Water, Glycerin, MCT (from coconut), Natural Flavors (from plant extract), Prebiotic Polysaccharides (from Xanthan and Acacia Gum), Natural Lipids (from non-GMO sunflower), Stevia (from leaf), Potassium Sorbate
CBG Ingredients: Purified Water, Natural Flavors (from plant extract), Stevia Leaf Extract (Steviol Glycosides), Sunfolower Lecithin, Glycerin, Hibiscus Flower Extract (Hibiscus sabdariffa), Polysaccharide Blend (from Xanthan Gum and Acacia Gum), Potassium Sorbate. 
For the Certificate of Analysis of this product click on this link.